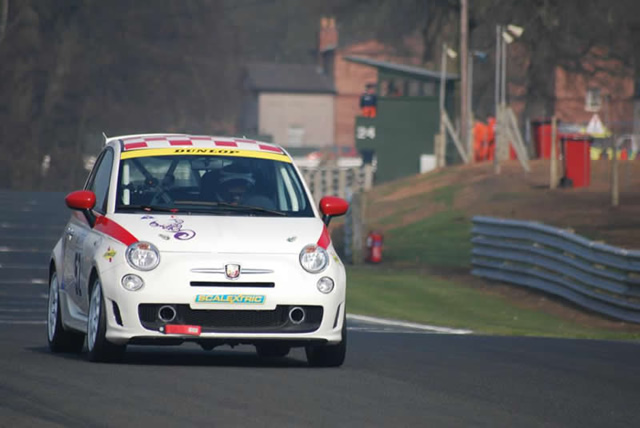 The team arrived at Oulton Park late afternoon on Friday and unloaded the Abarth 695 Competizione into the pit garage, ready for what was hoped to be a great days racing on Saturday.
Saturday dawned as a very foggy but bright morning, the sun just starting to burn through as the team arrived at the circuit.
The fog delayed the start of the mornings proceedings by about 1/ 2 hour. This gave the team time to finish the final preparations, tyres, fuel, cameras (this time Sarah had both a camera for Motors TV footage and her own in car footage camera!). Eventually, the fog burned off to reveal a cloudless sunny blue sky, a perfect day for racing.
Qualifying was just 20 minutes and Sarah took it fairly easily in view of the fact that this was her first time out on track in a race car since her huge crash in the 4Two Cup in October last year, and also her first time on track in her Abarth since its winter rebuild, now with a completely different set up to how it had been run previously.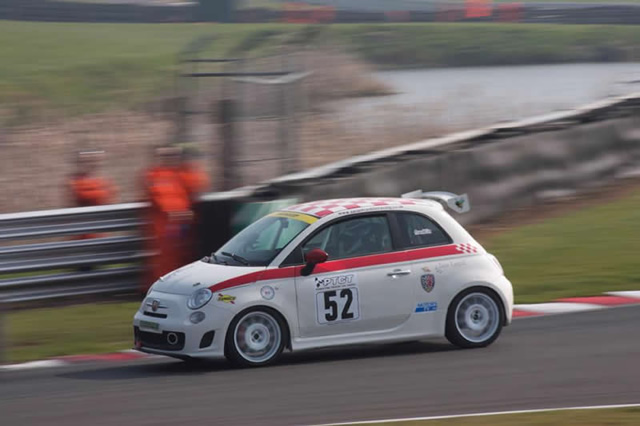 Sarah gradually increased her pace and confident in the new set up. She came in for her planned stop mid-qualifying for check tyre pressures and temperatures. All seemed to be good and, with a few adjustments, Sarah was sent out for a last few laps. With just 3 laps to put in her qualifying time, Sarah got faster and faster, qualfying 9th overall and first in class.
After qualifying, Sarah was very pleased and said: "I'm really happy with the way the car is handling. It's better than it has ever been and we've managed to eliminate the hopping in high speed corners! I hope to build on this more this afternoon in the first race!"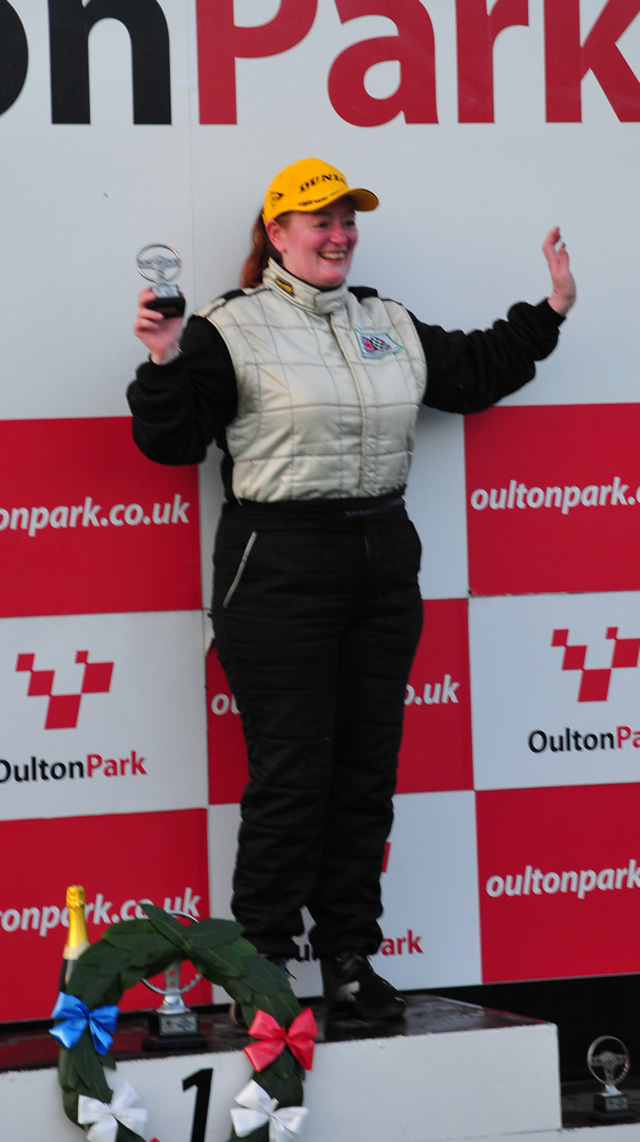 Race 1 and Sarah got off to a fantastic start, getting past a couple of the Class A cars! Unfortunately, the little Class B car simply couldn't do anything about the Class A boys on the straight - so it was a case of pushing on, getting faster and faster, being consistent and being reliable!
Sarah was obviously getting more and more confident with the car, taking nearly 5 seconds off her qualifying time during the race and, after 20 minutes of racing, Sarah took the chequered flag in 5th place overall and first in Class B.
Race 2 was the last race of the day but the sun was still shining as Sarah lined up 5th on the grid.
Sarah again got a blinding start, overtaking a couple of the Class A cars as she went! However, again, Sarah couldn't do anything about the additional power that the Class A cars had on the straights!
Sarah once again plugged away, getting faster and faster and again beating her fastest lap from Race 1. After the 20 minute race, Sarah came home 6th overall and 1st in Class B.
Sarah reflected on the day. "It's been a fantastic days racing and it's been so good to get back out in the Abarth and we're really pleased with how it's gone. Having had pretty much no testing whatsoever, we've come to Oulton and already found a great set up on the car and found lots of time in both the car and me! I'm now looking forward to improving on that foundation at the next round at Donington!"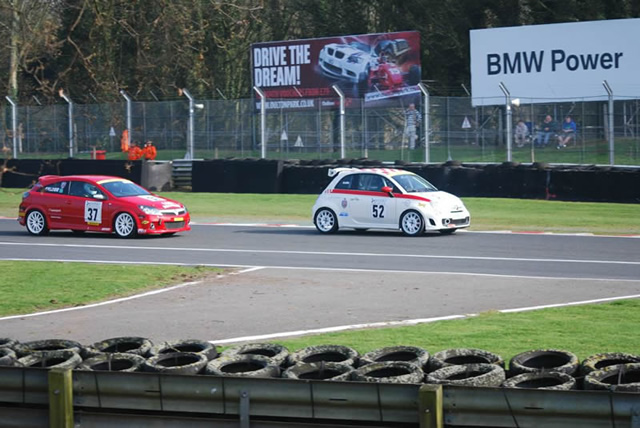 Coming out of Old Hall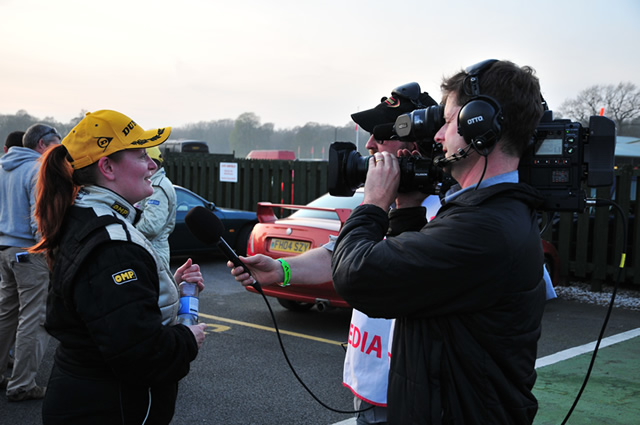 Being interviewed for Motors TV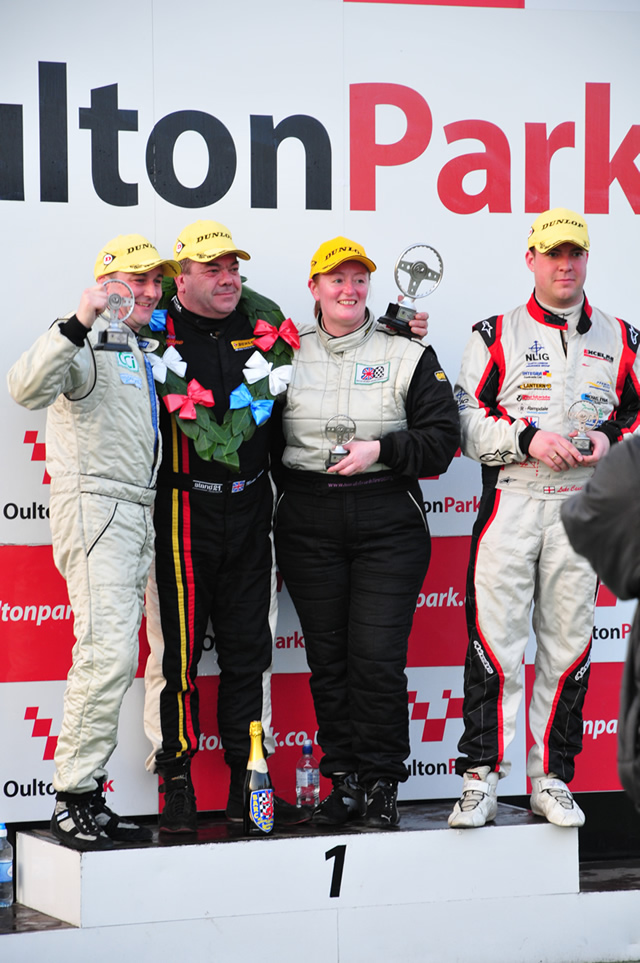 Race Two Podium with the Class A boys!