A wet weekend had been forecast and the team was so sure of a wet first session that the Abarth was put on wets for the first time this year.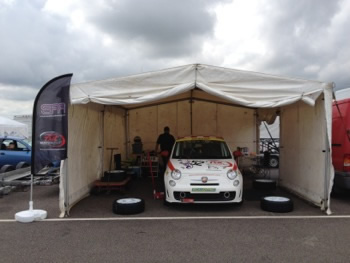 Friday night was extremely wet but, as Saturday morning dawned, the rain clouds moved away and the circuit dried! Sarah's mechanic, Adrian quickly changed to slicks in readiness for qualifying.
With no time for testing, Sarah went straight into the 20 minute qualifying and spent the time getting to know the track and pushing the Abarth more and more throughout the session. Sarah qualified 8th with a 2:27. Sarah reported a few braking issues so the brakes were bled prior to the first race.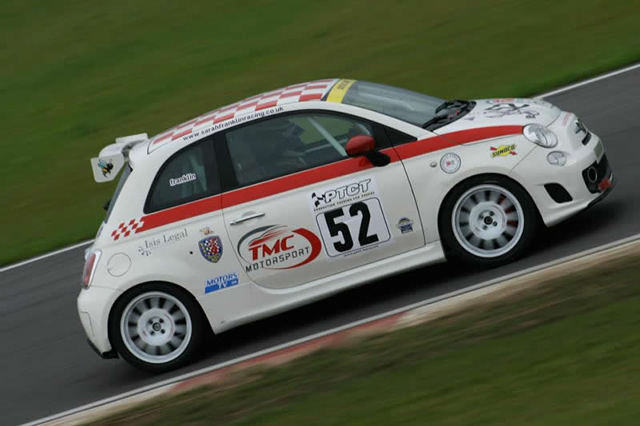 Race 1 was Saturday afternoon and, whilst there were a few spits of rain, it remained dry enough for slicks yet again. Sarah made a good start and, as all of the cars piled into Riches, suddenly Sarah had Maurice Hayden's Megane sideways in front of her! Fortunately, Sarah was quick enough to avoid him and continued on her way! Sarah continued to grow in her confidence on track, putting in a fastest lap time of 2:23 and finishing 7th overall and 1st in class.
Race 2 was Sunday morning. Not only was there no rain but it was blue sky and sunny! Sarah started the race from her finishing position from Race 1, namely 7th. Getting anywhere close to the Class A cars was always going to be difficult at Snetterton with the two long straights. Her aim, therefore, was to get quicker and be more consistant. Her fastest lap in the race was a satisfying 2:22.5 and she finished 8th overall and 1st in class.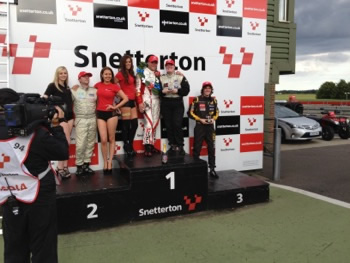 The last race of the day was quite literally the last race of the day, with the Production Touring Cars starting at 5.40 p.m. Race 3 is a reverse grid, the starter being picked by the winner of Race 2 (Luke Caudle). Luke picked number 8 so Sarah started on pole! The start was obviously quite hairy, being surrounded into Riches by much more powerful cars! Sarah kept with the Class A boys as long as she could and then again started pushing on her speed and consistency, this time putting in a 2:22.3. Her aim was to try not to be lapped, a tall order on such a fast circuit but only the winner, Luke Caudle lapped Sarah and that was only 3 corners from the end of the race! Sarah finished the race 8th overall and 1st in class.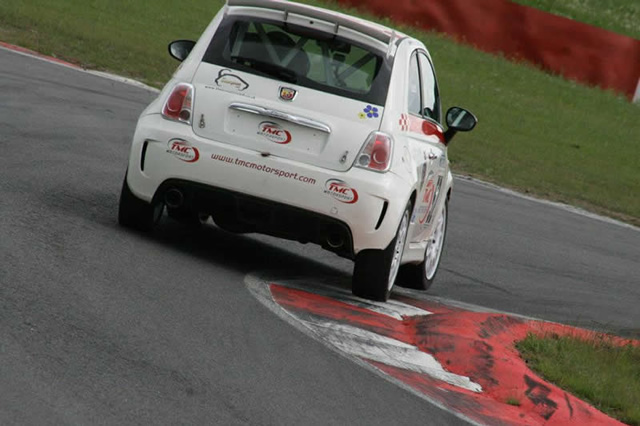 All in all, a satisfying weekend with lots more progress made!
Next round - Thruxton on the 28th and 29th July!
On track photographs courtesy of Ashley Bryant - http://www.facebook.com/#!/BryantPhotography