Sarah was invited along to Rockingham this weekend by Ma5da Racing championship co-ordinator Jonathan Blake to race a MX-5 Mark 3 in the Ma5da Cup.
The first time Sarah got an opportunity to try the car was the Friday before the race weekend. She got into car 99, which had had a new engine put into it since it last raced, so knew she would have to be fairly gentle for the first session. Unfortunately, the car only lasted just over one lap before it lost all power and died! Clearly there was a problem with the new engine which, it turned out, was fatal and meant the Mark 3 would not be going out for the weekend.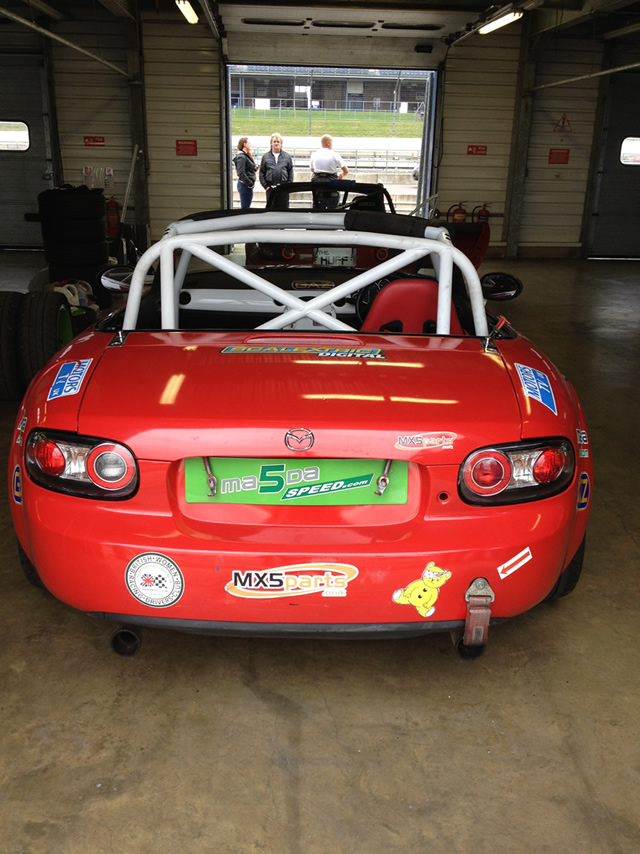 The car Sarah should have been driving ...
Plan B was therefore put into action! Sarah was offered the opportunity to have a go in the Ma5da 150R but only managed to take the car out for one short session on Friday before having to decide whether to race at the weekend!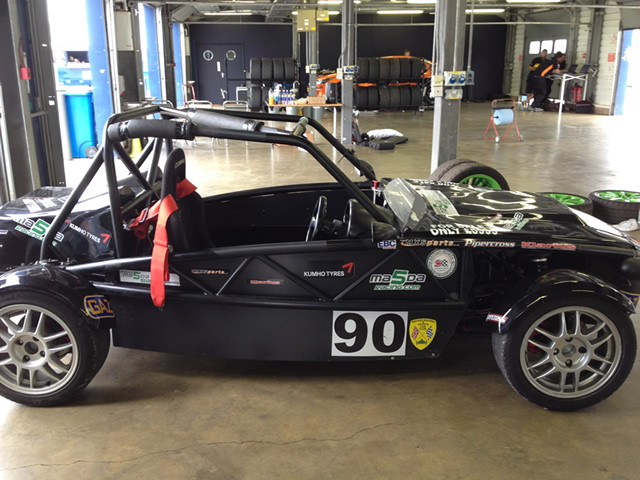 Sarah reflected on her very short time in the car. "The 150R was extremely different to anything I've ever driven or raced. It's rear wheel drive, essentially open wheeled and has no power steering! The car wasn't meant to be raced this weekend so it's on really old tyres and we've had no time to even consider set up but I can imagine, that, once you get to grips with it, it'll be great fun!"
Sarah decided to give the weekend a go!
Saturday morning was an extremely hot one at Rockingham. Just the kind of weather to be wearing fireproof underwear, a race suit and helmet – not!
Qualifying was in the morning and was only 15 minutes long. However, despite this, Sarah managed to go 5 seconds a lap quicker than she'd managed in the test session on Friday. She was obviously getting to understand how the car worked!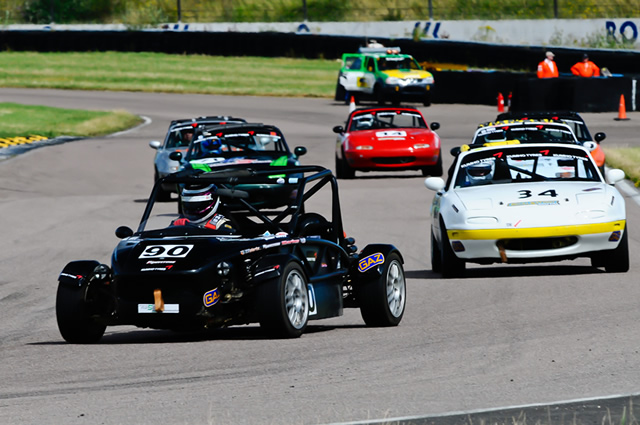 With 35 cars on the grid and Sarah still very much finding out lap by lap how to drive the car, Race 1 was an interesting one! Sarah got off to a good start and managed to make up some places coming into the first corner. She then spent the next 15 minutes overtaking other cars left, right and centre! After several laps of progress, Sarah got tapped going into the last chicane and was spun around, losing several of the places she'd made up. She managed to get straight back on it though and continue on her quest forward, making up 7 places and finishing 22nd overall and 5th in class.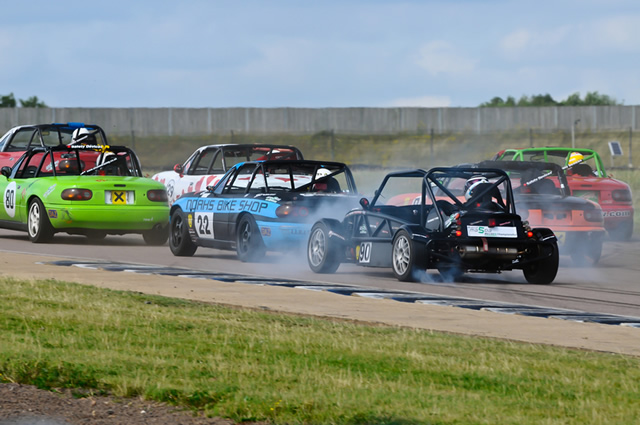 Race 2 was on Saturday afternoon. Again, Sarah just plugged away in the 15 minutes and, as she gained in confidence in the car, overtook cars on every lap. The only drama was when she missed a gear coming out of Tarzan and lost a few places that she then had to re-take. The last chicane was a favourite overtaking place, with Sarah going wheel to wheel and side by side with other cars on several occasions. She was particularly happy with the last overtake which happened coming out of the last corner with a drag race to the line!
"That was really good fun", said Sarah. "I enjoyed the close racing and it was a very steep learning curve getting to grips with a car so different to anything I've driven and also a car that really wasn't meant to be racing today! I have to say a big thank you to Jonathan Blake for letting me have a go in his car!"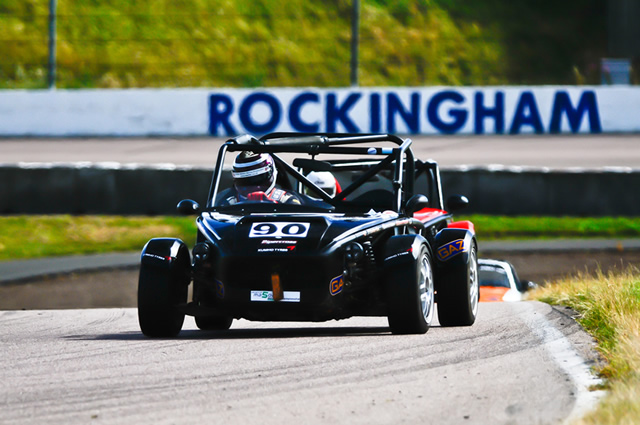 The next time Sarah will be on track will be at Rockingham again but this time in her usual steed, her Abarth 695 in the Dunlop Production Touring Car on 1st and 2nd September.