Rockingham is Sarah's home circuit and one of her favourites – and the Sunday of the race meeting was also her birthday! The weather forecast was for a weekend of sun so everyone was really looking forward to the racing.
Sarah decided to do just two sessions of the test day on Friday so the team could work on the set up for the car for this unique anti-clockwise circuit. With the extremely fast 'oval' section and the tight and twisty in-field, set up is always a challenge to try to get the best out of the car.
Saturday morning and qualifying was limited this weekend to just 15 minutes. Sarah therefore went out and had to get on it straight away. This paid off because Sarah was ahead of lots of the Class A cars for the first part of qualifying. By the end of the 15 minutes, Sarah qualified 9th overall with a 1:38.201 ahead of one of the Class A cars and first in class.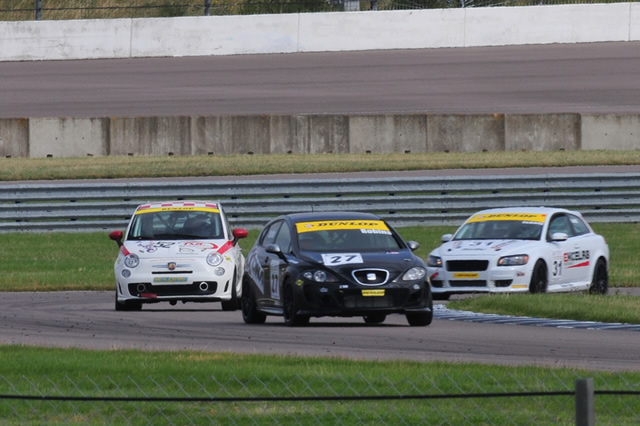 All three of Sarah's races went well, with good starts into the first hairpin. Sarah managed to get in front of Class A Megane driver Anthony Williams in race 2 and, despite his car being in a class that has 50 bhp more than Sarah's Abarth, she managed to keep him behind her for three laps before his power finally gave him the edge to pull away on the banking. Similarly, in Race 3, Sarah was having a real tussle with the Class A Volvo of Keith Issatt, with some superb defensive driving, Issatt could do nothing to get past the Abarth until he decided to retire from the race.
All in all, Sarah took three 8th places and three class wins, with her fastest lap coming in race 3 with a 1:37.694. Sarah drove so hard, she took the slick Dunlop tyres down to their canvas in race 2!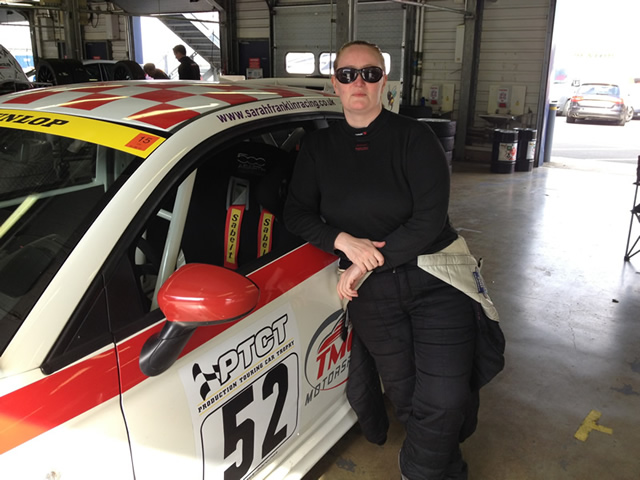 "I've really enjoyed the weekend here at Rockingham", Sarah said. "I love this circuit and have once again, got faster and faster in the car, despite a fairly aggressive set up! Being able to play with some of the Class A cars was fun!"
Next is the last round of the PTCT at Croft in North Yorkshire on the 29th and 30th September.