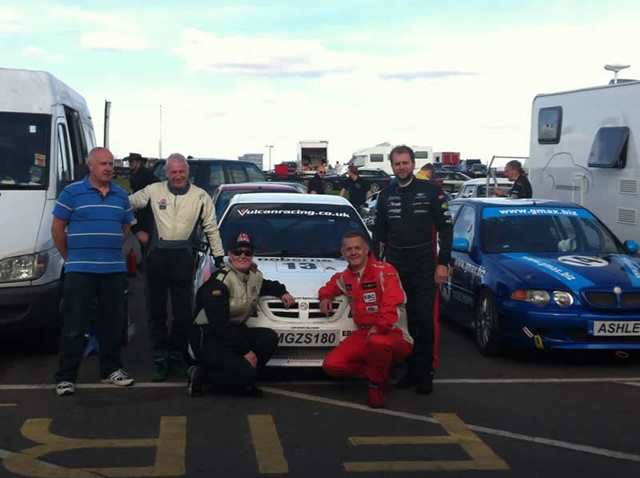 Qualifying and the race were all on the one day. The team consisted of Peter Burchill, Simon Lowery, Les Tyler, Jason Simm, Howard Hunt and Sarah.
Qualifying was meant to be 15 minutes for each driver and Peter went in the first session. Sarah went out third but her session was cut short so she only managed to get 13 minutes. However despite this and this also being the first time the car had been out in 2013, she put in a respectable 1:34.549.
With the handicap system in place (no idea how that actually works!), the team started 11th out of 23 teams. Peter started the race but dropped back to 16th initially before pulling back into 7th before handing over to Jason. Jason re-joined in 13th but almost immediately had a safety car period which lasted about 15 minutes. He therefore maintained that position and handed over to Les, then Simon (who had a couple of big spins at the end of his stint) and then on to Howard. Sarah, therefore did the last 40 minute stint.
By this time, the field was fairly spread out so Sarah just went out and just kept going as fast as possible, having no idea if each over take was for position or not. Mid way through, she came into Murray's to find a Lotus in the middle of the corner, having spun and obviously cut out! Sarah took avoiding action and managed to continue but this brought out the safety car for 5 laps. The good news is that this bunched the field up again giving Sarah a chance to catch the team in front. Sarah was slowing catching but unfortunately ran out of time before the chequered flag so the team finished 10th with Sarah having put in a fastest lap of 1:31.113.
"It was really great to get out and blow the cobwebs away", said Sarah. "Big thanks need to go to Kettering Motorist Centre, Eddie Farrow and Adrian Franklin for getting me out today."
Sarah will be out next at the Birkett Relay Race at Silverstone on the 26th October 2013.