Sarah had been invited to be part of team Vulcan Racing once again, substantially the team that had entered the 4 hour race a couple of weeks ago at Snetteron.
This time 'round, it was the full Silverstone GP circuit and 6 hours racing! The team consisted of Peter Burchill, Howard Hunt, Adrian Hodgkinson, Ashley Woodward, Dan Ludlow and Sarah.
Prior to the race weekend, it became clear that there were several members of the British Women Racing Drivers Club racing at the Birkett. A brief photo shoot was therefore arranged for 8.30 a.m.

Then it was on to qualifying! With 70 teams entered, it was going to be a busy one. Sarah was in group F. There had been a huge amount of rain overnight and the circuit was wet and slippery with a misty rain still falling.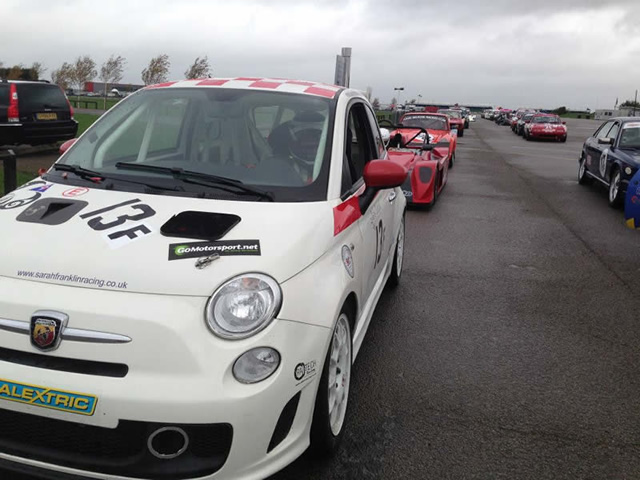 Qualifying went really well with Sarah putting in the fastest time in the 6 strong team and managing to beat some cars that were much more powerful than her! Sarah said 'I have to say I love driving Mario in these tricky conditions. The wet tyres are superb and I can quite easily beat the more powerful cars that just can't make the most of their power advantage!'
The sun, however, started to shine as the 6 hour race started and the track started to dry. The decision was made, therefore, for Howard Hunt to start as he was running road tyres on his race car. Howard ran his hour stint with no issues or problems and duly handed over to Adrian Hodgkinson. Peter Burchill went out third and Sarah took over for the fourth hour. The track was still drying but slicks was the only way to go. There was a dry racing line but it was still very wet off line. Sarah went out and it then almost immediately started to rain at the back part of the circuit. This was only temporary though as the sun came through once more.
Photo courtesy of Jamie Peters-Ennis
After about 15 minutes running, Sarah immediately felt a vibration on the steering going down Hanger Straight. Not wanting to surprise the team, she ran by the pits, flashed her lights and waved frantically that she needed to pit the next lap to check out the cause. She came in and Adrian went out while the team looked at the problem. It seemed that it was simply a few balancing weights on the front tyre that had come off, unbalancing the car and causing the vibration. Sarah there re-joined the race to finish her stint, although, when she went back out there was a safety car period before she could really get some decent laps in. Towards the end of her hour, Sarah had a good battle with a 308 Ferrari. Sarah was much better in the corners and under braking and the Ferrari had more power on the straights. This went on for a few laps. Sarah then saw her 'in' board and knew she only had one more chance to get the Ferrari before handing over to Dan Ludlow. She came down the Wellington Straight and managed to brake late into Brooklands and overtake the Ferrari, much to her satisfaction.
Sarah then came in and handed over to Dan. All was going well, the track was now fully dry and Dan was putting in some consistently quick times when suddenly, he didn't come round passed the pit straight. The team had agreed to give a total of 4 minutes before assuming that there had been a problem. After the 4 minutes, still no Dan so Ashley was sent out. It turns out that Dan (who was driving Peter's car) had had to pull the car off to the side as the engine had blown.
The concern then was whether Ashley could make it to the end of the race, there being about an hour and 15 minutes to go. Sarah, therefore, was on standby in case he had to come in but fortunately, he managed to bring the car home to finish the race.
The team really had no idea how the handicap system works and, being put in a class with Radicals and Caterhams, they knew they weren't going to win any silverware but, even so, they managed 13th in class so every one went home happy. Even Peter, with his blown engine (knowing it was going to be rebuilt over winter anyway) wasn't too unhappy!
Sarah looked back on the event. 'The Birkett is a great way to end the year. It's so much fun with so many different cars out there. Even with the problems we had, everyone had a blast! I look forward to having another go next year and perhaps we'll even try to work out the handicap rules next time!'
Big thanks must go to Eddie Farrow from Ratech Racing and Adrian Franklin for getting me out this weekend and looking after me!'
Sarah is now considering her options and plans to race a full championship in 2014 - watch this space for further information.