Sarah had never done an autotest before so thought, why not! This is her account of the day!
To be honest, I really wasn't sure what an autotest was so did a bit of research. This was going to be an all forward test (so no reversing) and I needed to have a passenger. Cue my other half, Adrian!
Luigi, my Abarth Essesse, got a wash and clear out before we arrived at Curborough on a very chilly Sunday morning. During the course of the next hour, all of the other competitors arrived in all sorts of cars, including a Fiat Uno, Honda Civic, Seat Arosa, Ford Fiesta, several Peugeot 205 Gti's and a Mini Cooper S.
First call of the day was scrutineering which was essentially checking that the car had an MOT, Tax, had nothing loose to fly around during the test and was 'legal' on noise levels. Luigi passed with no problems. Then on to signing on at which point I was given three sheets with the three courses laid out in all of their glory. I was also given a 'time sheet' for my first run on the three Tests. This was handed to a marshall at the beginning of each Test and collected at the end. It detailed the time taken and any penalties.
The three separate courses were laid out with cones and 'gates' and my instructions showed which way around you had to go. I would be going around the course twice in each run. We got the chance to walk all of the courses and then it was time to have a go!
The key was to get around the course quickly but cleanly, without hitting any of the cones and finishing astride the finish line. Each cone hit would be a 10 second penalty.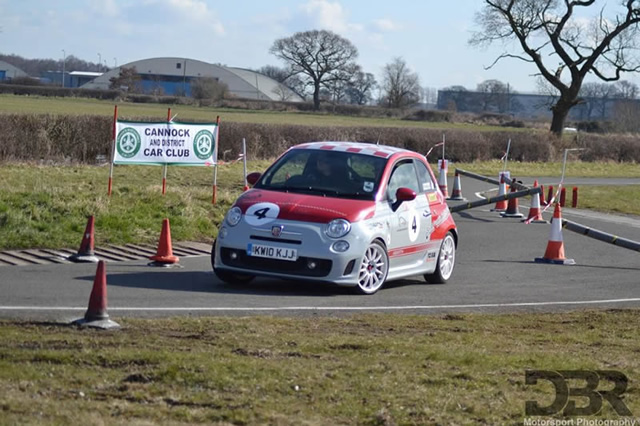 I started on Test 3 which was the tightest and twistyist of all three. It immediately became clear why there were lots of Peugeot 205's and mini's – small cars which were very nimble around and through the gates! With Adrian's co-driving skills (consisting mainly of shouting at me which side of the 'gates' to go!) we made it around with no errors, no cones hit and in a reasonable time of 1:22.81.
Test 1 was more 'open' but with a few really tight gates. First run was a 2:01. Test 2 was a mixture of 1 and 3 with both a faster section and then a really tight section, including a 'U' turn in the middle. We finished the first run of Test 2 in 2:07.47.
After handing in my timing sheet for the first run and collecting a blank sheet for run two, it was time for a quick cuppa and a review of the Tests ready for Run 2.
Run 2 was much easier, having been through the Tests once already. By Run 3, I was left foot braking around some of the tighter sections and working the fantastic Mintex 1144 brakes hard. The times were tumbling down on each run and, other than one little mistake on Test 3 in my last run, I managed clean runs throughout (though it was very close to a few cones on several occasions!). By the end of my 4th run, I'd knocked off 7 seconds in Test 1, a massive 10 seconds on Test 2 and 6 seconds on Test 3. More surprisingly, I later discovered that I'd actually won my Class, including beating a classic Mini Cooper S which I, quite frankly, thought I had no chance of beating!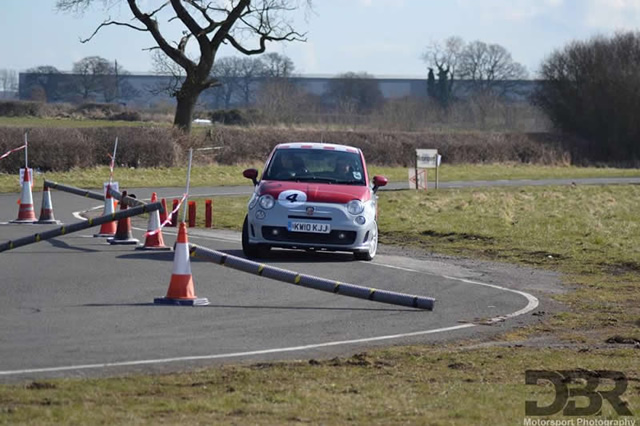 It was clear that everyone was having real fun and finished each Test with a big smile on their faces. It was great to see an event where you could just turn up with your road car and do pretty much nothing to it and have a bit
of motorsport fun at little cost. The most anyone seemed to have done is have a second set of wheels and tyres and a change in tyre pressure. The whole atmosphere was really relaxed and everyone chatted between runs. There was lots of interest in my littleAbarth. A big thank you to Mark and Will Barnes for inviting me along and all the marshalls who ran the day superbly. In the words of Arnold Schwarzenegger 'I'll be back'!